Property Details
7598 NW Martin Sewell Rd. Clarksville, Florida 32430
Offered at $79,000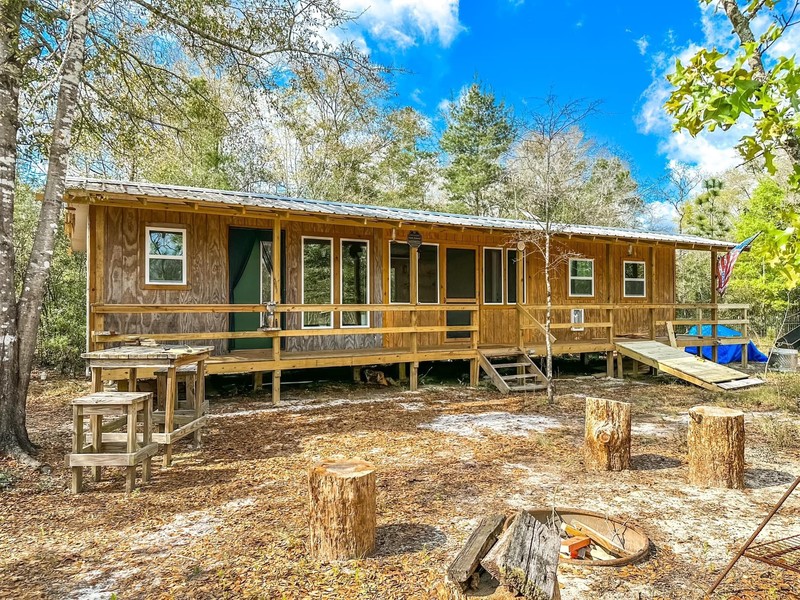 Open House - no
Listing Agent: Danny Ryals
Phone: 8506745478
Status: Sold
Type: Single Family Homes

Year Built: 2022

Bathrooms: 1.5

Sq. Ft: 528

Lot Size: 5 Acres

CABIN & 5 ACRES!!
Here is your cabin in the woods with 5 acres. This 44'x12' cabin has a living/dining area that is 15'5"x11'5" with a half bath. The screened room is 11'11"x11'4" and could be used as a bedroom. The bedroom is 15'5"x11'5" and has a bathroom with a shower.
A 4' wide x 44' long covered porch goes across the front of the cabin and 11'8" down one end. The home and porch have a metal roof. The yard right around the cabin is fenced for pets. There is a fence down one side of the property and across the back of the property.
Sellers have hand cleared some of the property and there are walking trails and minimal undergrowth on a good bit of the land.
A 10'x8' pump house provides freeze protection for the well and storage.
Weekend getaway, hunting cabin, temporary home while you build? Lots of possibilities!
Offered at $79,000.00 CASH
1/2 bath (in living area): 3'7x3'6
Screened room: 11'11x11'4
Full bath w/shower: 6'8x3'
Pump shed & storage: 9'9x7'10, 10'8x8'
For more information about this listing please text or call the listing broker. Danny Ryals: 850-899-6472 or call our office at 850-674-5478 and talk to Lynn or Daniel.